Camping
Valemount, BC, is your stop on the Yellowhead Highway for front and backcountry camping and RVing
Tent, Trailer or Teepee
You've just found one of the best places to camp between Edmonton, Alberta and Vancouver, BC. Revive those memories of crackling fires and the sticky marshmallow fingers. Breathe in the fresh scent of deep cedar, hemlock and pine forests that surround Valemount. Rekindle your love of nature and create more memories to last a lifetime. The only distractions here are the ones Mother Nature created.
Hike, fish, raft, ATV, or bike the day away. Then, come back to camp, relax and get ready for another day of adventures. Let the cool summer breezes lull you into the best sleep you've had in years. Finding a quiet spot here is almost as easy as unrolling your sleeping bag.
A Home Away from Home
For those who love to spend the summer seeing the country by RV, Valemount is an ideal place to stay. You'll find large, pull in spots with 30 amp service, WiFi, laundry and showers within an easy walk of the village. There are also privately-owned campgrounds for family reunions, weddings, golf tournaments or large RV convoys. For solitude, drive into the forest where there are several campgrounds with large, treed sites complete with hook-ups.
Camp in Mount Robson Provincial Park
You're sure to find the right spot for you in the 219,829 ha of Mount Robson Provincial Park. Fall asleep with majestic Mount Robson at your back, and awaken to the melodies of over 180 species of birds. Reserve a campsite at Robson Meadows, the largest of the campgrounds, or try your luck at Robson River Campground, within walking distance of the Mount Robson Visitor Centre. For a rustic get-away, head to the Lucerne Campground, which features two walk or cycle-in sites. There's a nice beach on Yellowhead Lake adjacent to the Lucerne Campground that is ideal for a chilly dip.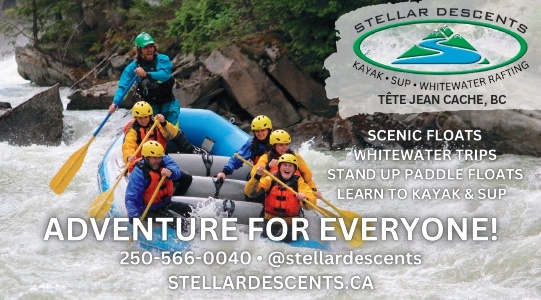 Hike and Camp to Berg Lake
Awaken your inner explorer with a hiking and camping adventure to Berg Lake. This 23 km (14 mi) trail crosses three biogeoclimatic zones, has a climb of 800 m (2,625 ft) and offers spectacular views along the way. Beyond Kinney Lake, make your way into the Valley of a Thousands Falls where you'll find the Mist, Berg and Robson glaciers. Keep a watch out for moose, deer, and elk. Be bear smart, as black bear and grizzlies make their home here. We recommend you make reservations for the seven campgrounds along the trail.
Camp, Hike and Boat
Spend the day hiking until you come across a sunny patch beside a beautiful and remote creek, pitch your tent and watch as the heavens fill with the starlight. Spectacular vistas and the enviable solitude is right here in the Robson Valley. Camp out at Kinbasket Lake or Horse Creek.
Yellowjacket Creek and Griffin Sawmill Recreation Site are both well suited for family reunions. For a larger group on Kinbasket, head over to the Canoe Reach Marina, with 17 campsites with boat access and moorage. Hike in to Little Lost Lake and pitch a tent. Try riverside camping at the Tete Jaune Spawning Grounds, an open campsite along the McLennan River with a foot trail to the Fraser River. For kayakers, give the Upper Canoe Recreation Site a try. Camp alongside the Canoe River and spend the day running its course.
We recommend you make reservations before you arrive. Contact the Visitor Centre for more information.
Top Ways to Sleep Under the Stars
Need To Know
When camping in Mount Robson you must register at the British Columbia Visitor Centre at Mount Robson before you go
Dogs are not permitted on the Berg Lake trail for overnight hikes and must be leashed during the day
Be prepared for sudden weather changes
Please respect campfire bans
Always pack a first-aid kit and carry it with you when away from your campsite
Consumption of mushrooms and other natural items like berries can be hazardous. When in doubt, don't eat it
All surface water should be boiled, filtered or otherwise treated prior to use
Bring insect repellent and be aware that ticks come out in early spring
Give wildlife space, and never feed wildlife. Even if it doesn't appear dangerous, it could be in the right circumstances
Safely store your food and dispose of garbage in bear-proof garbage receptacles provided on site. Be bear smart
Dogs must be leashed & controlled in area campgrounds
When to Go
Have fun camping in Valemount from May to October.