Snowmobiling
Hang on for the ride of your life! Sail through some of BC's deepest powder as you explore Valemount and the Robson Valley on a snowmobile.
Prepare for the Ride of Your Life
Glorious blue skies await after a night of epic snowfall. In Valemount, we get our fair share of these days, along with space explore in picture postcard scenery. Climb high to see the valley stretch out before you in its snow-covered perfection. Then look up, up, up at the Rocky Mountains standing as sentinels at your back.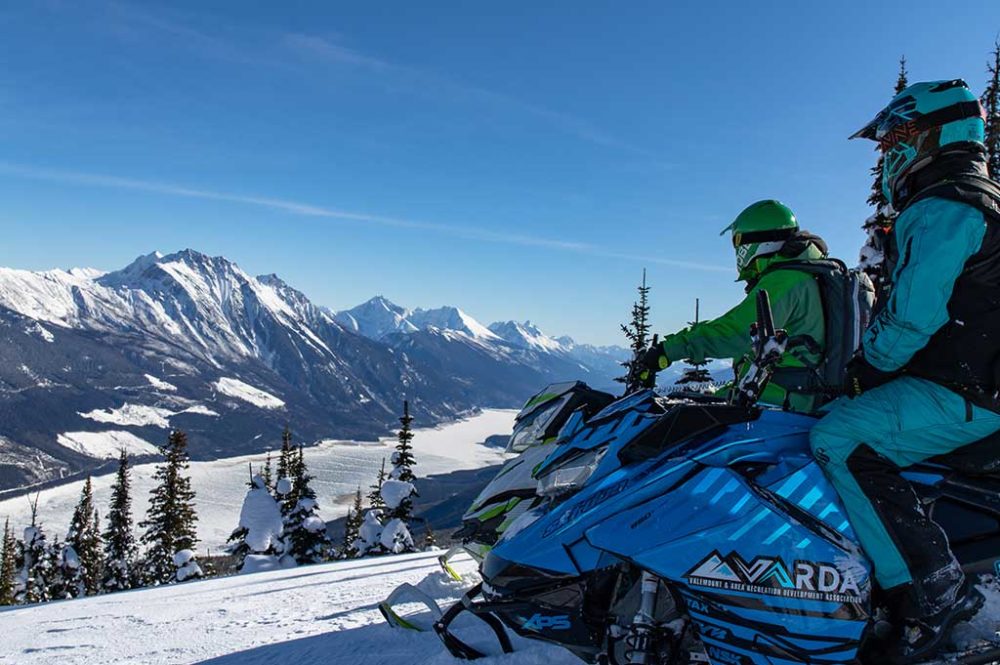 A Trail for Every Sledder
Come along for the ride on some of the best sledding terrain in Canada, where snow-packed mountains and valleys still feel wide open and untouched. Feel the power of your machine as it chews through fresh powder and push your own endurance. The jagged peaks and the pristine river valleys — along with virtual oceans of champagne powder — combine to offer up the perfect canvas to paint the sledding adventure of your dreams.
For a complete list of snowmobiling trails and areas visit the VARDA website.
Top 10 Ways to Experience the Sledding Capital of BC
Get an early start at Allen Creek — the first area to open each year
Sign up with Alpine Country Rentals or Frozen Pirate Snow Services and go play in the powder
Pack a big lunch (you'll be hungry) find your perfect spot overlooking the valley and chow down. You can't pay for views like this!
Looking to test your free-riding skills? Visit the Keyhole area for a variety of terrain that's holds many opportunities to get airborne.
Take a GoPro video of yourself and friends
If the snow is falling, head to Clemina Creek and ride into the trees for a spectacular day spent manoeuvring
Get the family involved and give the Westridge Loop a try. Something for all skill levels, it's got the perfect mix of terrain along with amazing views and a warming hut
Chappell Creek always has the prettiest powder
Head up to Crystal Ridge and give Powerboarding a try at the world's only sled assisted ski/snowboarding hill
Need To Know
A trail pass is required when sledding VARDA-managed trails. Visit their site for more information. By riding in Valemount you're contributing to snowmobiler avalanche education.
All snowmobile tours take place in a wilderness environment where there is little or no cell phone connection
Always check current avalanche conditions before heading into the alpine. For local avalanche courses check with Frozen Pirate Snow Services
When heading out, make sure your transceiver is turned on properly by completing group checks first and use the BCA beacon checkers at all VARDA managed trailheads to ensure transmission
Never ride alone. Leave an itinerary with someone and report upon your return and always travel in pairs
When snowmobiling in the winter range of the Mountain Caribou, wildlife closures are in effect. If you come across caribou while riding, do not approach or harass the animals. Move at least 1 kilometre away. Warn others there are caribou in the area.
As always, we ask you to help us in keeping our pristine wilderness intact. Please bring back out whatever you pack in
When to Go
Our snowmobiling season gets underway in mid-to-late November, and depending on snow levels, wraps up in mid-to-late March.